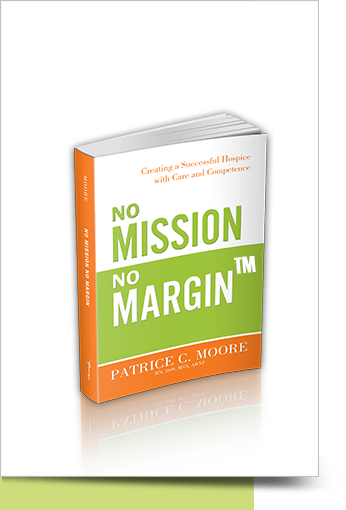 About The Book
Patti Moore's most recent book, No Mission No Margin ™: Creating a Successful Hospice with Care and Competence (Advantage Media Group, 2014), shares her expertise on how to build a thriving hospice organization. Drawing on more than three decades in the hospice field as an executive at one of the nation's leading hospices and founder of The Watershed Group, Patti gives powerful insights into the growing hospice sector of the healthcare marketplace. In this groundbreaking book, hospice leaders will learn how to stay at the forefront of excellent patient care while maintaining business success.
Readers will also find out how to get to the top and stay there with Patti's expert advice. This book will leave you, your team, and your organization with a plan and a mission for success, starting with:
Insights on key aspects of hospice management and strategic planning
Important qualities and competencies to look for in any new executive or board member
Ways to foster a culture, across all levels, that is centered on high quality patient care
About The Author
Patrice "Patti" Moore, RN, BSN, MSN, ARNP, is president and founder of The Watershed Group, a strategic consulting company that helps leaders build successful businesses focused on increased productivity, cultural alignment, and financial success. Since its foundation in 1999, The Watershed Group has been dedicated to using several key concepts of hospice care: wholeness, dignity, respect, and empowerment. Prior to starting The Watershed Group, Patti grew a hospice with three employees into one of the largest hospice organizations in the United States. This is her second book; she co-authored the book How Goes It With Your Soul in 2001. Patti and her husband live in Gainesville, Florida.
ENDORSEMENTS
Nathaniel Lamkin LICSW, Senior Director
"I recently read your book "No Mission, No Margin: Creating a Successful Hospice with Care and Competence". After nearly 17 years in hospice and palliative I have read many books, and none have resonated more powerfully for me than this one. Your words are sage advice to anyone who wishes to thrive in the competitive and rapidly-shifting hospice industry. Thank you for sharing your insights with us; I know that I will continue to turn to this book frequently throughout my leadership career in this wonderful field. "
True Ryndes, ANP, MPH
Recipient of the National Hospice and Palliative Care Organization's Founders Award
"No Mission No Margin ™ is a must read for those who are new to hospice governance and management and Patti Moore is the perfect person to write it. A hospice pioneer, she was a successful hospice provider. As a member of hospice leadership organizations she helped shape the evolution of care delivery in her state and our nation. As a consultant she has been exposed to the wide variety of problems and opportunities hospices have encountered, regardless of profit status. Most importantly, she understands first-hand the tensions that exist when clinicians, managing death as a complex human event, encounter reimbursement regulations that largely recognize it as a medical one. Ms. Moore takes a strong position that it is simply not enough to care about the dying and those who care for them. The care, and the organization's management, must be done competently, with a respectful appreciation for the roles of regulation, education and philanthropy. When this is done well, studies show patients not only die more comfortably, but there is a significant chance that some will live longer than those who have not received hospice."
Ann Morgan Vickery
Health regulatory lawyer at Washington Office of Hogan Lovells and recipient of several hospice awards, including Woman of the Year in 1986 and Healthcare Architect in 2012
"Patti Moore's understanding of hospice as it was meant to be is deep and insightful. Her book should be read by anyone interested in focusing (or refocusing) a hospice on its essential mission: meeting the needs of the dying and their families and loved ones."
Ira Byock, MD
Palliative care physician and author of Dying Well, The four Things That Matter Most, and The Best Care Possible.
"Patrice 'Patti' Moore is a consummate executive who leads with saavy,integrity, and soul. In No Mission, No Magrin she lays out sophisticated strategy for applying business acumen to advance the core values that bring professionals to hospice.

Every administrator charged with leading their hospice organization through these unsettled times would be wise to read this book.

Moore understands the heaith of any heaith care organization – and its staff- is essential to the wellbeing of the patients and families it serves."