In addition to her role as founder and president of The Watershed Group, Patti Moore is the author of two books.
Patti's most recent book, No Mission No Margin ™: Creating a Successful Hospice with Care and Competence, shares her expertise in how to build a thriving hospice company with care and competence. Drawing on more than three decades in the hospice field both as an executive at one of the nation's leading hospices and founder of The Watershed Group, Patti gives powerful insight into the growing hospice sector of the healthcare marketplace. In this groundbreaking book, hospice leaders will learn how to stay at the forefront of excellent patient care while maintaining business success.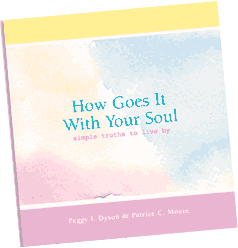 How Goes It With Your Soul

Patti is also co-author of the book How Goes it with Your Soul, alongside Peggy I. Dyson. This inspirational book is filled with beautiful watercolor illustrations and motivational quotes. Written by two of the country's leading experts on service and compassion, this book will make you smile, give you insight, and provide perspective on life, yourself, and happiness. It's a perfect gift for family, friends, employees—or yourself. To get your copy, contact Patrice Moore.