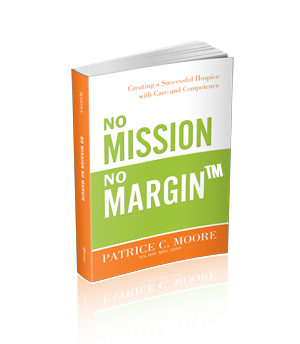 New Book on Health Care Management is a Guidebook for Building a Transformational Culture Focused on Mission, Resulting in Increased Financial Success
Gainesville, Florida October 31, 2014 – President and Founder of The Watershed Group, Patrice "Patti" Moore, has published her second book, No Mission No Margin ™: Creating a Successful Hospice with Care and Competence, which discusses the business strategy and culture of successful hospice organizations. As a consultant and talent acquisitions expert, Moore consults with hospice organizations nationally to increase efficiencies while maintaining high quality patient care, assisting in the recruitment and development of top level executives and management teams, and inspires hospice leaders to think differently about their culture of hospice care.
Outlining the importance of staffing, the competitive and changing health care marketplace, and how to look at philanthropy with new eyes, No Mission No Margin ™ is the guidebook for hospice executives, boards of directors, and managers. Patrice shares a powerful message centered on the core of what hospice care is all about – providing support and easing the suffering of people nearing the end of their life's journey. No Mission No Margin ™ is a reminder that positively impacting the lives of the dying and their loved ones is the overarching mission. Keeping that at the forefront of organizational goals, culture and business decisions will result in success.
Patrice Moore invites you to uncover what she has learned from 30 years of hospice management, consulting, and recruiting. If you are interested in this growing area of healthcare, are involved with the board of a hospice organization, or looking for a new healthcare management philosophy then the advice within No Mission No Margin ™ will inspire and empower you to rise above the challenges of this market place and lead with passion.
No Mission No Margin ™: Creating a Successful Hospice with Care and Competence is available at Amazon.com and other online retailers.