Patti Moore honored by University of Florida College of Nursing as a Gator Great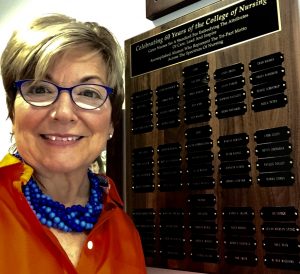 Local business leader Patrice "Patti" Moore, President of the Watershed Group of Gainesville, Florida, was named by the University of Florida College of Nursing as one of "60 Gator Nurse Greats" in honor of the College of Nursing's 60th Anniversary at the school's Donor Recognition Event on September 9th. Honorees are chosen from among the school's 10,000 graduates as exemplifying the College's motto: "Care. Lead. Inspire." According to Anna McDaniel Dean, UF College of Nursing, recipients of the Gator Nurse Great awards are among the school's "most accomplished and inspirational graduates. Ms. Moore was among the 20 alumni who personify the ideals of "Inspire"".
Ms. Moore began her career in the nursing profession, then spent 16 years as the executive director of Hospice of North Central Florida (now known as Haven Hospice), starting with a staff of 3 employees that increased to 200 during her tenure, making it one of the largest not-for-profit hospices in the country.
In 1999, Ms. Moore founded The Watershed Group, a specialized consulting and executive recruiting firm serving organizations and staff who provide end-of-life care. Since its founding, the company has worked with more than 100 hospice organizations and other service organizations nationwide. Ms. Moore is also an executive coach, and public speaker on the topic of end-of-life care.
"I was so fortunate to have received both a Bachelors and Masters degree in Nursing from the University of Florida; my nursing education at UF was the foundation for all of the work I have done to serve those frail and dying people across the country," Ms. Moore said. "My instructors were role models of excellence and professional caring, and I felt a very high bar had been set for me to live up to the standards of the UF College of Nursing.  I tell young people who are considering a career in health care to go into nursing and don't settle for less than an advanced degree.  My UF education has opened doors that I never dreamed possible.  I am humbled and honored to have been selected for this award."